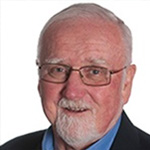 Fr Noel Conolly
Columban Missionary Priest Senior Lecturer and Head of Mission and Culture, BBI-TAITE
Noel passed away peacefully on June 06, 2020. Noel loved the world and loved people. He believed and worked tirelessly for the success of the Plenary Council. His membership on the facilitation team cannot be overestimated. He made peoples' hearts burn within and his spirit lives in us all. He believed in the bounty of the blessings received from investing in the truth and above all, he loved God, the trace of whose finger in the arena of human affairs he spent a lifetime discerning. He is with us, yet deeply missed.
Bishops Commission
Chair of the Commission & President of the Plenary Council:
Members:
Plenary Council Coordinating Committee
Members:
Danielle Achikian (Chair)
Gavin Abraham
Archbishop Timothy Costelloe SDB
Trudy Dantis
Sr Marion Gambin RSJ
Peter Gates
Bishop Shane Mackinlay
Sarah Moffat
Sophy Morley
Kelly Paget
Fr David Ranson
Debra Sayce
Maggie Tiongson
Lana Turvey-Collins
Executive Committee
In June 2017, the Bishops Commission for the Plenary Council announced the members of the Plenary Council Executive Committee. The Committee members have particular expertise and work together in an advisory capacity to help ensure the successful preparation, celebration and implementation of the Plenary Council 2020.
Mr Daniel Ang – Broken Bay
Mr Shayne Bennett – Brisbane
Br Ian Cribb SJ – Broken Bay
Dr Gemma Cruz – Melbourne
Sr Moya Hanlen FDNSC – Sydney
Ms Sally Hood – Brisbane
Mr John Lochowiak – Adelaide
Dr Brigid McKenna – Hobart
Ms Sarah Moffatt – Adelaide
Sr Grace Roclawska CSFN – Parramatta
Rev Dr Ormond Rush – Townsville
Dr Debra Sayce – Perth
Mrs Theresa Simon – Sydney (Maronite Church)
Dr Nigel Zimmerman – Parramatta
Mr Shane Dwyer and Fr Ian Waters are additional consultants to the Executive Committee.
Instrumentum Laboris Team