The last time the Catholic Church in Australia held a Plenary Council was in 1937. It has been more than 80 years since we gathered all of the Church together and much has changed. In 2020, we will have a Plenary Council about the future of the Catholic Church in Australia. What are we called to do? Who are we called to be? How do we need to change?
Pope Francis has spoken of the need to engage in the world and respond in faith. He said:
"The defining aspect of this change of epoch is that things are no longer in their place. Our previous ways of explaining the world and relationships, good and bad, no longer appears to work. The way in which we locate ourselves in history has changed. Things we thought would never happen, or that we never thought we would see, we are experiencing now, and we dare not even imagine the future. That which appeared normal to us – family, the Church, society and the world – will probably no longer seem that way. We cannot simply wait for what we are experiencing to pass, under the illusion that things will return to being how they were before."
The journey toward the Plenary Council will help us to prepare to listen to God by listening to one another. We invite all people to engage, to be a part of the listening and dialogue encounter in the next two years.
Logo and Scripture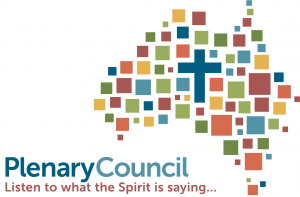 We are blessed with great diversity in our Catholic Church in Australia – many perspectives, experiences and encounters of faith, walks of life and vision for Church. We are called to explore what it is that we are called to, how we are called to be the presence of Jesus in Australia for today, and for generations to come. United by faith, we shall:
"Listen to what the Spirit is saying." Rev 2:7
The Plenary Council logo reflects a "community of communities", drawing upon the message from Pope Francis about the nature of Church. He wrote in Evangelii Gaudium:
"It is a community of communities, a sanctuary where the thirsty come to drink in the midst of their journey, and a centre of constant missionary outreach." EG28
The colours are inspired by the colours of our sunburnt country – Ochre of the Red Centre, green from the Gum tree leaves, deep blue of the Ocean we are surrounded by and that of our Nation's flag. They are tones and textures that reflect our beautifully unique Australian identity.
The logo previously had "Plenary Council 2020" in text. This was discontinued in favour of simply "Plenary Council" from October 4, 2020, to better reflect the ongoing journey of the Plenary Council and the work that will continue after the rescheduled assemblies.